Advertising: Eurostar Business Premier Class
Eurostar have chosen three pieces from Paul's 'Life In Motion' album, representing customer experiences in Business Premier, Leisure Select, and Standard Classes. Eurostar Business Premier Class uses Future Happiness, and is available on iTunes ©:

Related
Eurostar Leisure Select Class
The Leisure Select film depicts travellers on Eurostar from Paris to London, enjoying comfortable lounges and on-board service.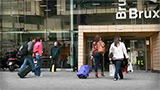 Eurostar Standard Class
The Standard class film depicts a group of young travellers on Eurostar from Brussels to London.
Paul's three Eurostar films are featured on the Eurostar's Travel Classes pages, in an elegant Flash implementation, here.