Advertising :: British Airways 'New Club Rules'
Together with Pete Challis at A-bomb, Paul and Vasco composed the music for each of the film genres in this ad. The ad also features on the British Airways New Club Rules Business Class website.
Related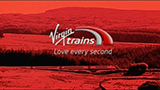 Virgin Trains 'Indian Attack'
Created by Rainey Kelly Campbell Roalfe/Y&R, the 80 second film features Apache Indians trying to board a moving train in an unsuccessful attempt to steal the ideas of a Virgin Trains customer.