Advertising: Virgin Trains 'Indian Attack'
Created by Rainey Kelly Campbell Roalfe/Y&R, the 80 second film features Apache Indians trying to board a moving train in an unsuccessful attempt to steal the ideas of a Virgin Trains customer. The 40-strong London Telefilmonic Orchestra was recorded at Angel Studio 1 and was fixed by Levine Andrade and mixed by Peter Lawlor.
Related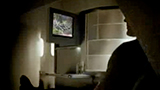 BA New Club Rules
Together with Pete Challis at A-bomb, Paul and Vasco composed the music for each of the film genres in this ad. The ad also features on the British Airways New Club Rules Business Class website.